Harmony Day 2017 takes place on March 21, celebrating cultural diversity throughout Australia and the world.
Nearly half of Australians were born overseas or they have a parent who was born overseas. In fact, in Australia we identify with roughly 300 ancestries! Now that's cultural diversity!
Today's young children are the key to embracing and nurturing a culturally diverse future – with so many different cultures between all of us Australians, there's so much to celebrate!
Encourage family engagement
Families at your centre no doubt have many cultural backgrounds – so encourage them to share a bit about where they came from.
Harmony Day is perfect for exploring the special things that make us all different while acknowledging that we are all so alike as well.
Try getting families, children and even staff to share a bit about themselves including:
Different languages that may be spoken at home
Foods that are unique to certain cultural backgrounds
Special customs that are recognised in different cultures
Harmony Day art and craft
The Harmony Day official website has some simple yet meaningful craft activities to help you bring Harmony Day celebrations and discussions into your centre.
Harmony Day colouring in sheet
Paper Doll Chain
A Harmony Day hand tree is always a beautiful piece of art to create: simply trace around each child's hand on a piece of paper or card and cut it out. Children can decorate their hand cut out to represent them and all hands can then be attached to the top of a painting or cut out of a tree trunk, making a tree top out of hand prints. Here's a great example – you can make it as simple as you like though: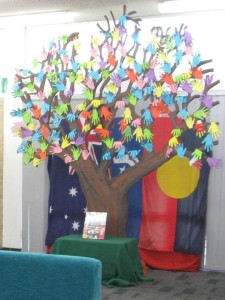 Everyone belongs
While we explore our differences, the key message to share with children as we celebrate Harmony Day is that EVERYONE BELONGS.
We are different in many ways, but we are also the same in many ways too – and it is great to celebrate all these things and to share and learn with each other.
Have fun with this special day and we would love to see how you celebrate Harmony Day – share with us on Facebook!