Mother's Day poems can be one of the most treasured, meaningful gifts a mum can receive from her child.
Mother's Day art, craft and morning/afternoon tea are all wonderful inclusions in Mother's Day celebrations, but this year we're focusing on poetry for the occasion.
Mother's Day Poetry – The benefits
The benefits of poetry for children are many and varied.
We recently wrote about how poetry can benefit children's development, including their memory, emotional comprehension and physical coordination.
In Reading Magic, fantastic Australian author Mem Fox says:
"Rhymers will be readers: it's that simple. Experts in literacy and child development have discovered that if children know eight nursery rhymes by heart by the time they're four years old, they're usually among the best readers by the time they're eight."
There is a huge amount of research to support that poetry makes learning language easier and much more enjoyable for children.
Poetry is fun to learn and reading it aloud can help children to build confidence and self-esteem (along with memorisation and rhythm).
Roses are red, violets are blue, here's a Mother's Day poem for you
Use poem writing as an exercise in vocabulary development and self-expression with the children in your centre (or at home).
An acrostic Mother's Day poem is a great one to try with young children. It is simple and places the emphasis on letter recognition, spelling and increasing vocabulary. Here's an example from Kidspot: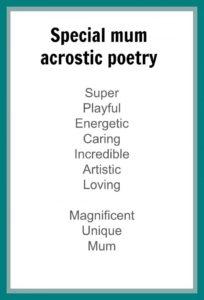 Adapt this approach to suit whichever name children use to call their mother, including other languages or for relatives who fulfill the maternal role in children's lives.
As always we remind centres to stay inclusive and open Mother's Day celebrations to the special women in children's lives, whether they are grandmothers, aunties, step mums and the like. Every family is unique.
Any child can read a poem to their mother. With a help of an adult, young children can say only some of the words or do actions to accompany the poem.
We would love to share the Bonkers Beat poem 'My Mum' with you all to use for this Mother's Day.
Gain exclusive access to this Mother's Day poem here.
If you have a special Mothers' Day poem of your own to share, we'd love to see it on Facebook!