If you haven't had time to plan some Christmas craft for your centre yet, don't worry – we have you covered! This selection of Christmas craft is engaging yet simple and produce a really great festive gift!
We also like to incorporate natural materials where possible, so you'll find that some of the requirements for these Christmas craft activities can be sourced from the garden or centre's surrounds.
Pinecone Christmas Trees
Parents will love to display these works of art! Get as simple or as complex as you like with these pinecone Christmas trees. They are fairly self-explanatory but if you need some guidance in creating them, click here.
Leaf art
We felt so incredibly inspired by the work by artist Elena Nuez and feel that children would love to create something similar. Collect a range of leaves, get painting, arranging and glueing. It's up to you how Christmas-themed you go with this but you can arrange the leaves to be a Christmas tree or attach them to a circle to make a leaf wreath.

Paper roll reindeer
There's rarely a shortage of empty paper rolls, so put them to good use by turning them into Santa's reindeer! A few simple cuts and a black marker will have the legs sorted in no time. Then use some cardboard to create the shape for the head and antlers before drawing on the details. Create a stencil for children to use to create the head and antlers if required for the best result.

Twig Christmas Ornaments
A cutting of cardboard, a selection of twigs strategically snapped to size and a ribbon or pipe cleaner and you can create something this special with children for Christmas!
These are so easy and they look fantastic. For detailed instructions, head here.

Pinecone or Gumnut Ornaments
Adorable and fun to make, you can't go wrong with something this cute! They're a little trickier than the other craft activities we have listed here but if you have the extra time, they do look fantastic. Get the full information on creating them here.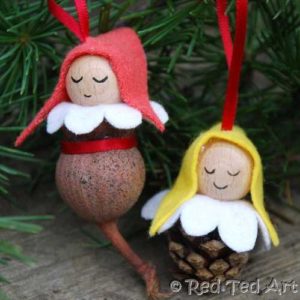 Happy Christmas crafting at your centres everyone! If you attempt any of these craft activities, we would love to see the outcome! Share with us on Facebook: www.facebook.com/bonkersbeat